PC repairs are our speciality. We are highly experienced at repairing computers quickly and efficiently. We also understand that you want low prices with no fear of losing any precious files. Our promise is to never lose any of your data…ever!

Memory Faults
Operating System Errors
Sudden Cut-Outs
Blue-Screen Faults
Powering Up But Not Booting
DVD / CD Rom Faults
'Dead' Computer
Noisy PC's Made Quiet!
Password Removal
Overheating
Memory Upgrades
Hard Drive Upgrades
Motherboard Replacements
Hardware Upgrades
Software Upgrades / Installation
Virus / Trojan Removal & Anti-Virus Installation
Internet Security
Graphics Cards
External Drives
Router Installation
In addition, we can carry out: Microsoft Updates, Disk Cleanup and Defragmentation, Removal of Unwanted Programs and Malware, QuickLaunch and Taskbar Cleanup, Startup and Shutdown Optimisation.Low-Cost Repairs Start at £25.00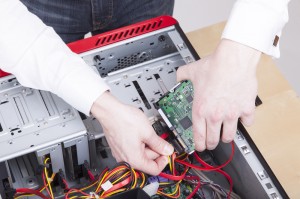 At PC Partners we work in a clean and tidy workshop within an organised atmosphere, specifically
designed for pc repairs work. We pride ourselves on attention to detail, such as the use of correct parts, installed with the correct screws. If we find incorrect screws have been used by a previous repairer, we will replace them with correct ones, free of charge. Wiring is always arranged in a neat loom and held with electrical ties.Our testing facilities are comprehensive and we can identify faulty hard drives, memory modules, cpu's,
graphics cards, power supplies and motherboards. Once we have diagnosed the fault, we always contact
the customer to discuss possible options. This may involve a simple replacement or a full rebuild.
Either way, we would never proceed with a pc repair without the express permission of our client.
Whilst we are performing pc repairs, your computer will always be handled and stored in a safe and secure area. The security of your computer and your data is our number one priority.
Finding a experienced specialist capable of undertaking PC repairs in a quick, professional, competent and efficient manner can be a difficult task. You can rely on us, we are here to help.