Windows 7 upgrades from Xp, Vista or Windows 8 / 10 in one package.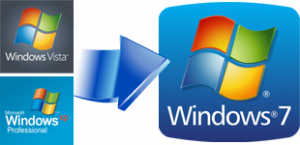 Microsoft have announced that support for Windows XP will end on 8th April 2014. That means no further phone support or security updates after that date.
Some customers will be feeling the effects already as Internet Explorer 8 will be the final edition for XP and cannot be upgraded to the latest version 11. (Internet Explorer 9 will be the final edition for Vista).  This means that the latest webpages will not be displayed properly  and more importantly, any financial transactions will be less secure in an earlier browser.
In addition, ISP's are already starting to withdraw XP support for their routers and modems. So, you could be getting a slower service even though, technically, you should be on a faster tarrif!
The good news is, that with Windows 7, your computer will run more smoothly, be more suited to the latest software, the display will sharper and more colourful, your work will be more secure, music files will be easier to play and sound better, the Internet will be quicker and there is a mass of free extra software and themes.
Customes are therefore advised not to leave upgrading to the last minute. Anytime in the next few months would be ideal. We recommend an upgrade from XP to Windows 7 as a perfect solution.
PC Partners have designed an all-in-one package that will enable this upgrade at an incredible price. The package consists of :-
Hardware check to ensure upgrade is possible*.
Existing programme check for compatibility with new operating system.
All existing data saved (documents, emails, address book, photographs, music, etc.).
Fresh installation of Windows 7 Professional 64-bit with latest drivers. Installation includes an OEM Certificate Of Authenticity (COA) label, but no Windows 7 disc.
Windows 7 activated and set-up for optimal performance, including all security updates, latest drivers and Internet Explorer 11.
Data restored and configured.
Essential extra programmes installed, including Microsoft Office 2010 Starter Edition** and Norton Internet Security.
Short demonstration of Windows 7, if required.
Price: Call
This upgrade is also ideal for Vista computers and laptops and is offered at the same price.
* Should existing hardware be incompatible, or faulty, we will advise before proceeding.
**Microsoft Office 2010 Starter Edition includes full versions of Word and Excel.
Note: We do not include printers, scanners or wi-fi dongles in this offer, nor any other external harware.